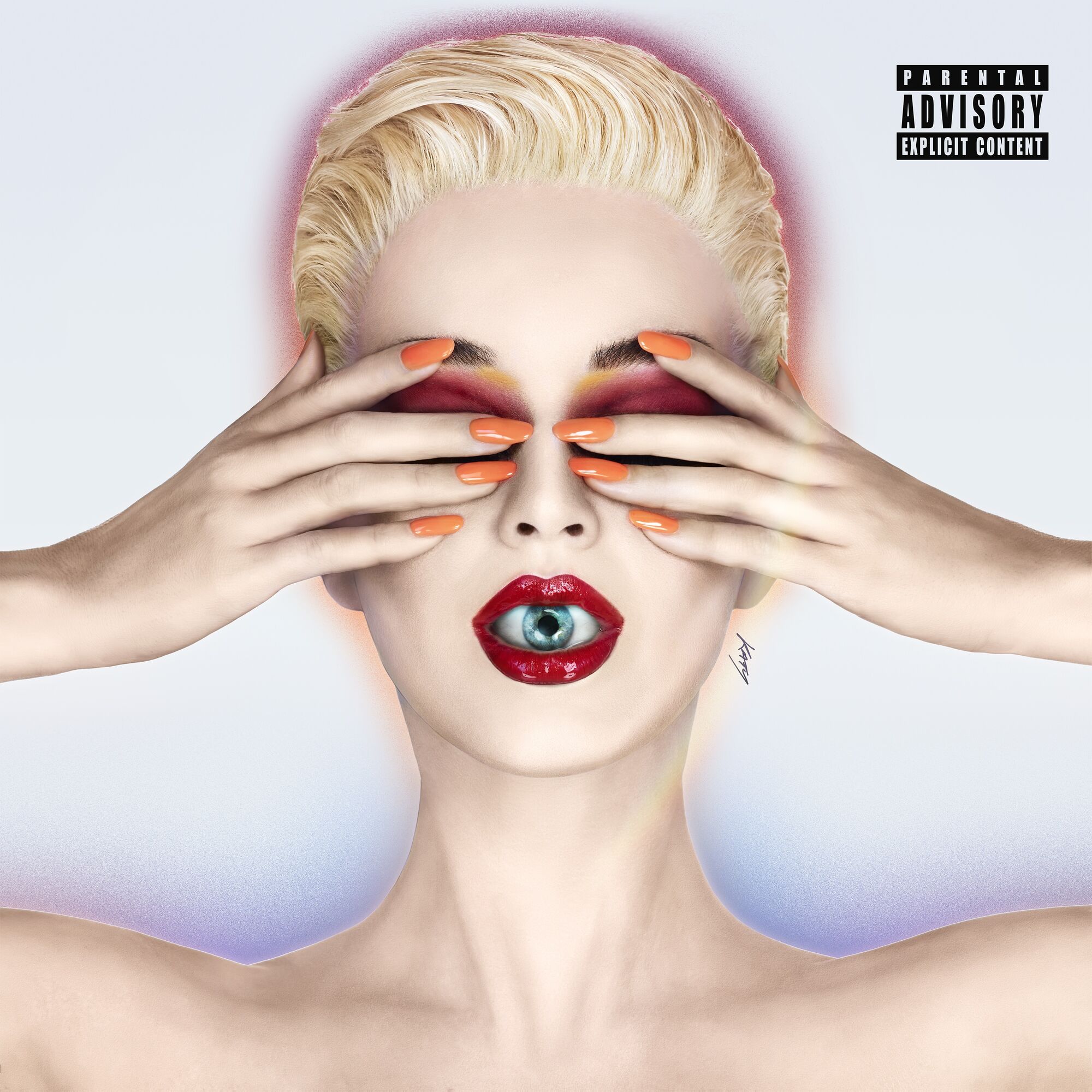 Teenage Dream is probably my favourite ever album; Prism is a solid top 5 entry; One of The Boys is still one of the best debut albums of all time, cracking my top ten. In other words, I often worship the ground Katy Perry and her music walks on. I am one who will furiously maintain that she has not made a bad song (except, maybe, Dressing' Up but no one remembers that anyway and I'll let you try and suggest Spiritual). However, I absolutely can, and certainly will, let you know when she released a bad album. There is no need to do so with Witness though, her fourth studio album, which features more sophistication and maturity than you may have come to expect from the lady who once wore Hershey kisses as a bra and an affinity for whipped cream and gummy bears.
Before going into my thoughts on the album as a body of work, first check my 'few hours in' reaction to each track - all with a rating out of five - and then a 'as it stands' ranking of the tracks, knowing it is subject to a whole lot of change in the coming days/months/years.
Witness is finally here. Let's go...
1. Witness - 5/5
Opening with the collection's best, Witness has the potential to be a super-sized hit on the scale of Firework and Dark Horse. Lyrically and sonically enchanting, it has the makings of a future anthem and feels all-encompassing of the profound, mature and more sophisticated album Perry has given us.
2. Hey Hey Hey - 4/5
Lives in the shadow of Witness a little but Hey Hey Hey has the potential to be a smash. A crowd-pleasing anthem with the typical Katy charm attached, Hey Hey Hey will be something special in a live environment.
3. Roulette - 4/5
Verse number one prevented me from loving it straight away, but as soon as the chorus hits you are swept up with it. There is a lot of love for this one out there so I wouldn't be at all surprised if it was made single number three; I wouldn't complain too much but they're far stronger songs in contention.
4. Swish Swish (featuring Nicki Minaj) - 3.5/5
After loving it on the first few rounds just a few weeks ago, Swish Swish falls a little flat. The lyrics are great, the pairing of Perry and Minaj is incredible and it is enjoyable, but it cannot help but feel somewhat forgettable and lacks the natural charm of either artist.
5. Deja Vu - 4/5
Chained To The Rhythm's disco-infused sister, Deja Vu is really funky. Features a really strong beat and smart, thoughtful lyrics, linking in with the album's themes really effectively. It is likely to grow on me further too.
6. Power - 4.5/5
As empowering as you expect from the title alone, the lyrics are the crowning achievement of this immense song. Deserved to be (and should have already been) a single. Very likely to be a stand-out for many and I can already see the 'I'm a goddess and you know it' tattoos.
7. Mind Maze - 3/5
Vocals and lyrics are decent but Mind Maze feels over-produced and doesn't come together as it should, lacking a cohesion. Album's weakest and while still more than listenable, it is the closest we come to a filler track.
8. Miss You More - 4.5/5
Proving that Katy excels at the ballads, she harnesses the emotion to provide an overwhelming and touching electro-tinged piece. Bound to hold so much meaning for many and features one of my favourite lyrics of the collection; "I miss you more than I loved you".
9. Chained To The Rhythm (featuring Skip Marley) - 4.5/5
Still as fresh as the day it was released, Chained To The Rhythm is smarter than its glossy, pop surface would have you believe. Its subliminal political messages marries in to the luscious visuals in a way only Katy Perry knows how, providing one of the album's (and year's) pop highlights.
10. Tsunami - 4/5
Lyrically and sonically masterful, Tsunami remains continually chilled; you are on edge, expecting a beat change or drop that never arrives and the song benefits from that, forging against your expectations. Will be a favourite for many and will make your yearn for the beach. Could be a summer smash.
11. Bon Appetit (featuring Migos) - 4/5
First of all, you should check out the solo version. Seriously. Does not feel quite at home on the album but still a fun bop that betters with age. Consuming alongside the music video is recommended to engender a greater appreciation for it.
12. Bigger Than Me - 3.5/5
Would probably benefit from a more stripped back production or an acoustic version to showcase the lyrics. Almost as if they have thrown a lot at the track but it doesn't all merge together and work all of the time. Again though, the lyrics are magnificent and could easily grow on me.
13. Save As Draft - 5/5
Powerful and emotionally-charged, Save As Draft is an album highlight; 'I write it, erase it, repeat it, but what good will it do?/To reopen the wound', she asks and everyone's heart breaks. Could be the sequel to the Thinking Of You/The One That Got Away/Unconditionally trio. Stunning.
14. Pendulum - 4/5
Tinged with elements of Roar and possibly the closest to the more mainstream pop KP2 and KP3, Pendulum sweeps you up quickly and doesn't let you go. Bound to be terrific in a live setting and the inclusion of the choir is a fantastic move to heighten the excitement.
15. Into Me You See - 4.5/5
A stunning note to end on and allows the album to beautifully come full circle. Into Me You See carries so much emotion - in a similar vein to Prism's By The Grace of God - and is, lyrically and vocally, a soaring success.
Average score
: 4.13/5
Witness > Save As Draft > Chained To The Rhythm > Miss You More > Into Me You See > Power > Tsunami > Bon Appetit > Pendulum > Deja Vu > Hey Hey Hey > Roulette > Bigger Than Me > Swish Swish > Mind Maze
To be updated with deluxe edition tracks
Witness has more of a cohesion sonically than expected; while Teenage Dream, One of the Boys and to an extent, Prism did, Witness does not conjure a world as much as it conjures a feeling and an outlook. Growth and development define the album and it presented Katy Perry at her most mature and sophisticated, thematically, sonically and vocally, while remembering to have fun - which is where the inclusion of Hey Hey Hey, Bon Appetit and Tsunami come into play. The ballads - most notably, Save As Draft, Into Me You See and Miss You More - are standouts and infuse an emotion into the main frame that Katy excels at. Chained To The Rhythm was an excellent lead single to go with and still sounds as fresh in the mix now, months later.
Witness is more than impressive. It's mature and sophisticated but still ultimately fun and fresh, providing us with another showcase of Katy Perry's versatility and strength in the industry. It doesn't have the instant charm of Teenage Dream but features its own strengths that will ensure it is an enduring album in her illuminating folder. Well done Miss Perry; roll on Witness The Tour!